This is the first set of emojis. Recently acquired by The Museum of Modern Art (MoMa), they were designed by Japanese artist Shigetaka Kurita in 1999.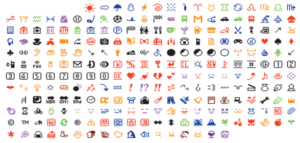 Emojis were originally used to give personality to keyboard emoticons and add another level of self-expression to online communications.

In 2011, Apple made the emoji a permanent part of their iOS 5 keyboard, launching the little faces into the spotlight. Today there are 1,620 emoji in the iOS keyboard with new ones joining every year.
Current usage:
Receiving an emoji feels like getting a handwritten letter—it's more of a personal touch than a regular text message. Emojis are a universal language, transcending cultures and defying rules. It is being argued that with emojis, sentiments can be expressed more quickly and precisely.
Using emojis in your messaging can add an extra level of personality and relatability to your brand. You can humanise your brand and relate to your audience by speaking their language with the emoji they use daily in text messaging, chat, and personal social posts. On professional platforms like LinkedIn, emojis help your brand stand out in a sea of text posts. Rather than using them to communicate, you can create more eye-catching lists, or emphasise your posts and headlines with symbols.
Impact on brands:
Emojis are an effective communications tool that can be integrated with business, commercial, politics and public causes, helping to increase a brand's exposure and engagement. According to a study by WordStream, using an emoji in a Tweet can increase engagement by 25% compared to messages without emoji. Using an emoji in your Facebook posts can increase shares by 33% and interactions by 57%. Push notifications that incorporate emojis can get up to 85% more opens and 9% more conversions than text-only notifications. Emojis can help make your brand more relatable, add context to your messaging, and appeal to the emotions of your audience on a deeper level.
The outlook:
As communications technology continues to advance, emojis will continue to evolve. Their effectiveness in promoting a business or concept lies in astute planning and deployment strategy.
Emojis by numbers:
2,666

emojis in the Unicode standard

6 billion

emojis are used every day in electronic communication.

6 billion

people in the US regularly use stickers, emoticons, or emojis in their online communication, sending an average of 96 emojis or stickers per day.

 
Why stickers are great for brands and designers?
| | | | |
| --- | --- | --- | --- |
| Fast | Easy | Fun & Variety | Free |
| | | | |
| --- | --- | --- | --- |
| The sticker images must be small, so no time for complex designs. | No need to code a whole app; basic Xcode is enough to publish. | Consumers get to inject more personality into their communication. | Consumers do the heavy lifting, spreading stickers to friends without it costing any extra for the brand. |
Emoji talking points:

#WatermelonSugar: Harry Styles spent USD 4 million on a watermelon sugar emoji for promoting his video clip.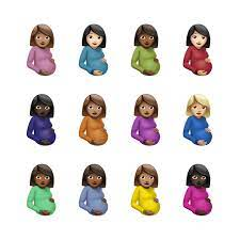 #CertifiedLoverBoy: For the launch of his CLB album, Drake used the free emoji generator created by Canadian software engineer Niko Draca that allows users to make their own CLB-inspired icons. It is a microsite that essentially impregnates every human Unicode character, male or female, in a range of skin tones with your choice of shirt colour.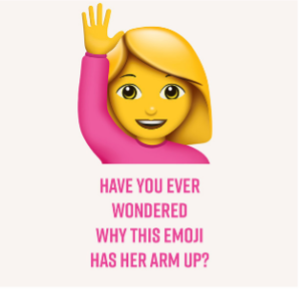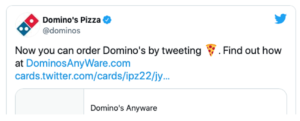 This emoji is a reminder to every woman who sees it or sends it to do their breast cancer self-exam, and the hashtag has quickly spread around the world.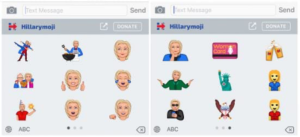 As part of Hillary Clinton's presidential campaign, Hillarymoji included over 30 emoticons, stickers, and GIFs. These could be used to show their support and share on social media. A great way to tap into the interests of younger voters, increasing her exposure and engagement.